Philosophy
All our products share a focus on featuring organic local ingredients whenever possible, and when we can't, we still source from farmers and companies who share our ethic of being kind to people, conscientious, and responsible stewards of Earth seeking to grow in our hearts and our minds.
Our fresh food for market and baked good lines use ingredients sourced from our community - the corn for Goodness Tortillas is grown within 20 miles of our farm and facility, as is the oats and buckwheat for our baked goods; all grown and milled by Nash's Organic Produce. The meat and veg for our Market-Managerie Tacos is also from local farmers and fisherman, and our honey is strictly organic Pacific Northwest. Everything else, like salt and dates, is from the best sources available, distributed by companies that share and reflect our values and that we feel good and peaceful dealing with.
The point to all this is to not only encourage myself, but everyone I have a chance to share with to care about the connections we make. Are they good ones? With people we want to be connected to? Do they encourage businesses that we agree with and want to grow? ...We create the world we live in with every choice we make, lets be aware of what we are making and feel good about it!
From the get go it has been my commitment to ensure that every business decision I make passes the peace test; does this align with my moral compass? Do I feel good about using this product and packaging or supporting this this company? Is there a way I can do this better to make it have a smaller footprint? Less waste? More healthy-goodness without compromising flavor? Is this a win-win for everyone involved?
So here we are, we have grown from tea, to coffee infused with botanics and medicinal superfood mushrooms, to offering oat-cakes, tacos and sweets ready to eat at market. Soon we will have a refridgerator case holding iced tea, cold-brew with botanicals, herbal beverages and horchata.
Here's to your health and enjoying every minute of it! Let the goodness abound!
Grounds
We began in 2007 the wild and lush, watery and mountainous Port Angeles, Washington, but moved in March of 2015 to Sequim, a quieter farming community to the east 17 miles. Here we occupy a scant 5-acre farm backing up to DNR where our processing facility is located. There is room for Goodness Tea to grow or wild harvest some of our botanicals, like nettles and rose hips, as well as make good on the reason behind it all... being good stewards of land and loving to people.
The Olympic Peninsula holds an amazing community of talented and conscientious people. There is ample opportunity for outdoor adventure in the mountains and lowlands and water sports in the Salish Sea and Olympic Mountain rivers, plus beautiful art, music, farming and homeschool networks. We love it here. It seems like a never-ending pool of new friends flow into our sphere; encouraging and being there as we can egg each other on to follow our dreams, listen to our hearts and live life for Goodness' sake.
We delight in doing business in such a way that it encourages connections like this, between us, between you and our sourcing-partners; between you and those whom you share a cup of tea or coffee, or a basket of tacos with- lets seek to live rightly so that all we do can be joyful- seeing the goodness in all situations and seeking the silver-lining; in the meantime enjoying the rain that the sun may shine more brightly!
And at the very root of the motivation behind this company is my embracing life as an independent mama. It has become the catalyst to pour all I am to make a Good Life for for my family in a way that affirms their health and our connection in every way I can. Through this I hope to encourage others to follow their dreams to, to change parts of our lives that don't feel peaceful and keep on seeking goodness in all things...what we seek we will find! For me this means raising much of our own fruit and veggies, keeping dairy goats and flocks and being doing life together as a family as much as possible by working and educating together. So now to maintain living according to these morals and supporting my family single, I took GoodnessTea from the backwoods to the front yard in the fall of 2014, for more of my story, read about Our Founder, or hang around the story page... it is for all of us to contribute to- but I imagine it will often house my struggles and excitement over watching and waiting for goodness to unfold around me.
Thank you for your time! Delight in being alive.
Dream
We are happy to be where we are; selling at the market, local stores and online, but its fun to dream - if you shoot for a hill you will likely hit it, at least some dirt on it somewhere; but if you shoot for the moon even if you miss you're still likely to land among the stars!
The dream keeps growing and evolving like a spring vine.
On the a short term plane, we dream of growing to the three main farmers markets on the Olympic Peninsula having hot food and drink carts. There, whomever runs it will offer GoodnessTea and retail products as well as something they think would be fun to make using what is available at their market and something that fits within our sourcing philosophy. For example, at the PA market, Shaelee offers hand-made feather earrings and silk scarves she paints, for example, and sometimes makes soups or steamed veggies and polenta.
So while the farmers market and word or mouth grows the customer base, we will continue to sell our products in small local stores as we slowly and steadily continue to grow.
When we grow enough the dream grows too.
When we have the capital to keep with our "debt free standard" we dream to finance a new branch on the GoodnessTree: Surely Goodness Creamery. Here we will make total farm produced ice creams with our own fruit, honey, herbs, duck eggs and goat milk. This and maybe a few cheeses will enable us to sell raw organic goat milk and kefir starts at reasonable rates so that more people can reap the benefits of this nourishing elixir of nutrients, proteins and easily digestible fats.
We would also like to grow hazelnuts and make essential oils while we are at it - for goodness sake! You can do a lot with 5 acres in the Northwest!
So we shall see where these dreams take us as they grow in the conditions about. I am sure it will be a fun adventure - and I am excited to be on it with all of you!
.....
Our Founder
Born of a desire to take her wild tea blends to the next level, Shaelee got a business license in 2007 and started selling teas to friends not really knowing what making it a go actually entailed!
Children, landscaping, farming, homeschooling, family and life kept her dream at bay until 2014. She was an independent mama with three children to take care of. Crossroads. Get a 9-5, hustle more landscaping work... yes its good money, but then the children are in childcare. So the dream was reborn.
Upon the foundation of simply loving making the most of plain-old-hydration by infusing water with botanics was now an urgency: Apply all resources passions and skills to make a life for the children and her that would restore grow and heal- leading to abundant life as best as she knew how.
So...Share it, grow it- the children can be present at mixing, at delivering, and market... we can share our lives, homeschool and farm. Just because she was a single-mom, didn't mean she had to suddenly live contrary to her morals to make it happen. It would take hard work, dedication and a lot of hard-times, humility and help- but in November of 2014 Shaelee bought a year space at the Port Angeles Farmers market and committed to see this thing through, giving it her best, for a year, to assess if it was a viable livelihood.
She had nothing but some bulk herbs and re-packagable bags from an attempt to make it a go a few years prior- and that doing what she could with what she had was where it was as.
And here we are.
At first it was a blow to realize that she couldn't use that tea, and that she couldn't even sell tea at market without becoming a food vendor, or having a processing facility to blend it in! So hand-painted silk scarves and hand-made feather earrings it was. She signed up for that booth, so she had to follow through and be there. Rain or shine, tea or not.
It has been an epic learning experience of red tape, asking questions, and joyously finding out that many county, state and L&I officials are very pleasant and helpful when you are earnest and want to do the right thing. Most of all its a story of perseverance, of keeping ones eyes on the dream and not on all the rocks and holes in the road ahead.
In 6 months Shaelee was able to take nothing really but a distant hope and turn it into a viable business ready to get its product on the shelves, a steady flow at farmers market and a new dream to keep on pursuing Goodness Business Practices to grow our local economy and change the way we define success as a culture.
Thank you for hearing her story!
A perosnal note:
This would not have been possible without the love and input of my friends, family and community.
Every person who has visited at market has made this happen- believing in what I am about with this and propelling me on with your kindness and ideas; showing me you feel that this is a good company you'd like to see around and encouraging me to pursue the vision.. to provide delicious nutrition for our community and help us keep connected for goodness sake!
Our Team
Many friends and family have stepped up and come alongside over the years, and GoodnessTea would be nothing but a distant dream without this loving group of people.
Shaelee's brothers and sisters in particularly have given so much of themselves through their amazing skill sets, wisdom, time, resources, encouragement and most of all this never ending love and support of her, just because she is and they believe in her. What a blessing to have a family such as this.
There is also a handful of friends that have been there over the years and decades which have been by her side through so much, and allowed her to be there for them. This connecting and vulnerability, this sharing of life we have has fed a deep well in her soul to grow, to love and to persevere. Thank you all for you kindness, compassion, acceptance, unique boldness and companionship! You are part of the GoodnessGang!
Harvey and Eloise Kalin have provided much-needed infrastructure with their farm, processing facility and enthusiasm to see our society progress into a more sustainable future.
We make a good team.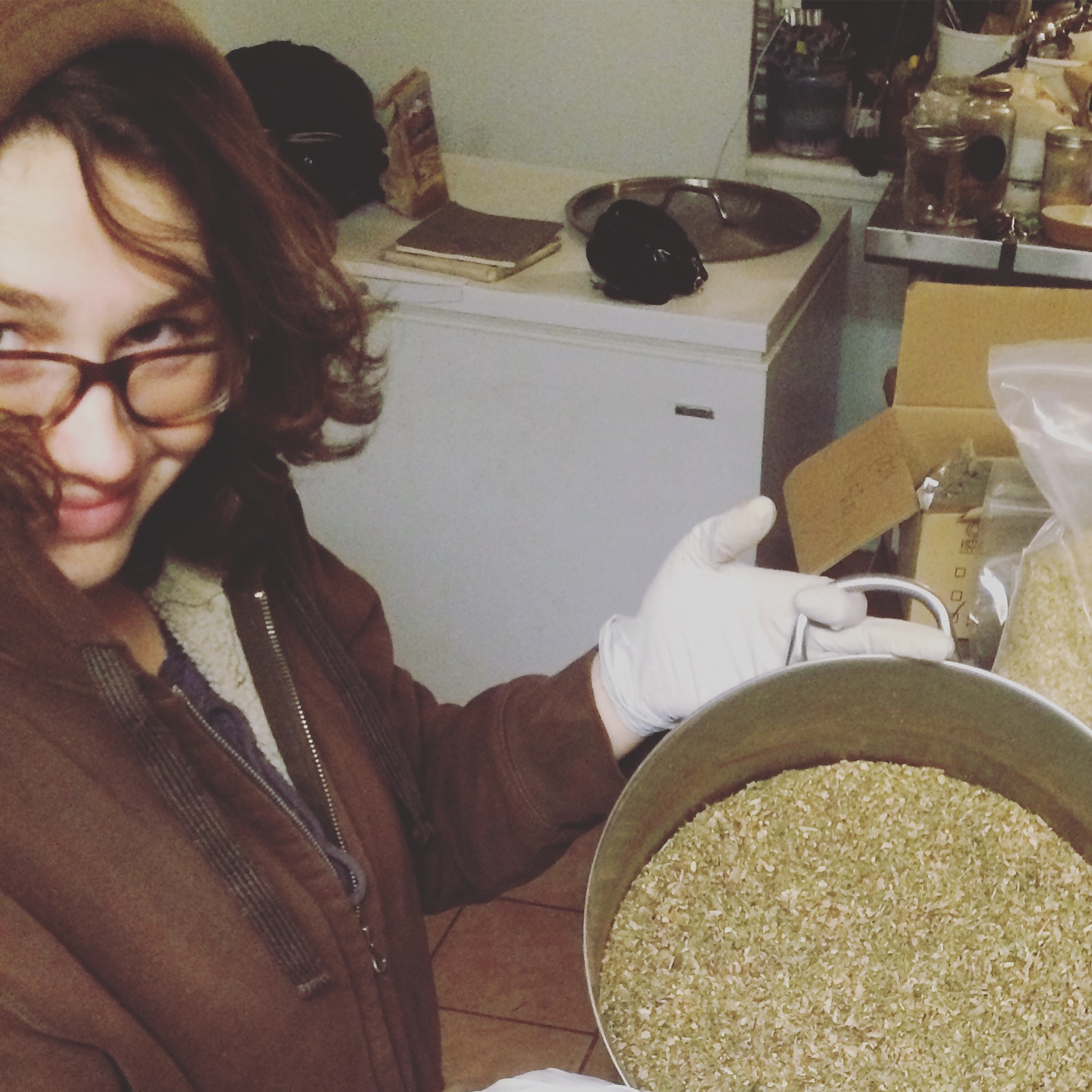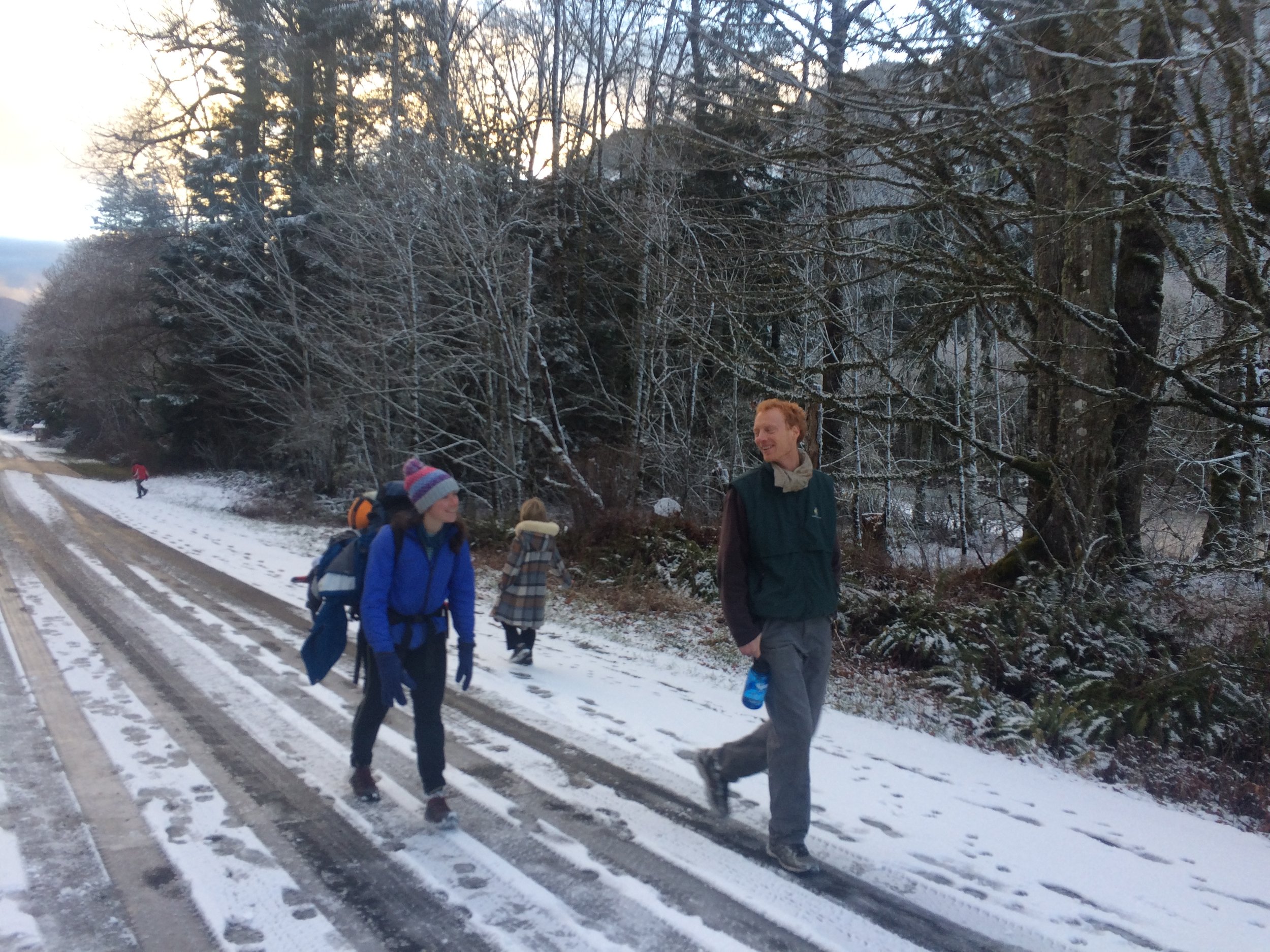 Our Community
As a producer, we have to get things from somewhere- here are some of the companies we are proud to support and happy to know that as we grow they will too.
Grounds for Change Coffee- I love their coffee and I love what they are about. Well done guys!
Mountain Rose Herbs- everything I can get from them I do, botanicals, herbs, cacao, salt, containers, etc. I feel my money is in good hands with their constant commitment to quality, sustainability, community education and god business practices.
Nash's Organic Produce: Corn for GoodnessTortilla and Market Tacos, oats for OatDate-the-BreakfatstCake, and buckwheat for our GF vegan chocolate peanut butter cookies. I love making food from ingredients that were grown a few miles away.
Pacific Pantry or Clark farms: chorizo for MarketTaco. I love supporting a local business using locally raised meats- this chorizo is blessing at least three small businesses in the area : )
Johnston Farms: veg for MarketTaco slaw- Christie puts love in her fertilizer I am sure of it- veggies have never tasted so sweet.
Seasonally, its a joy to highlight other vendors through soups and specials that can feature the amazing breads that come from Pan d'Amore, the killer krauts and pickles from Betsy's Clallam Canning Company, the zesty kimchi of Okasan and the tender grass-fed meats of Clark farm. What a joy to work with and support these local farmers and food producers!